Condo ELECTRIC VEHICLE charging
CONGRATULATIONS - YOUR EV CHARGING JOURNEY STARTS HERE!
You have selected to bring about EV charging infrastructure to your building before everyone else!
Our Smart solutions for existing and new build condominiums have been developed to ensure that EV charging is available and fair for all participants. We work directly with owners and property managers to implement the project and address all the challenges to make your building EV-ready today and in the future.
Our team utilizes fast charging technology, the latest energy management AI, and superior service to deliver a turnkey solution that meets any requirements. Just the same as Internet, TV, and home phone services in your building, owners can enjoy EV Charging benefits without the capital cost, ownership risk, and operational responsibility:
installation of an EV chargING STATION is only a few steps away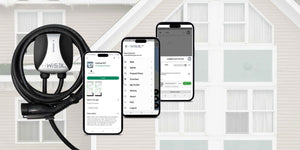 reliable and trouble-free
EV charging system
EVERY HWISEL EV CHARGING POINT INCLUDES:
QUALITY SMART EV CHARGER
Speed up to 48 amps , Built-in Energy Meter, and more...
electrical installation
Licensed Electricians, Permits and Safety Inspection
hwisel mobile app
Smart EV Charging Management Services
Quick connect RFID Tag
Vehicle Identification and Charging
Authorization
Help desk
Expert, End-to-End Support to Maximize Satisfaction
training
On-site Instructions to install and manage EV charging stations.
Phone and Online Support
Live Customer and Technical Assistance 24/7/365
Charger monitoring
Process and Access Control, Notifications, Alerts
in-depth reports
Energy consumption, settlement, and data collection
Implementation
Every building requires personalized attention and has its unique requirements. As a VIP customer our Team will handle the whole process. To book an installation simply complete the following request form:
CONDOMINIUM UNIT OWNER EV CHARGER REQUISITION FORM
Fill out the form below and HWiSEL will get back to you regarding your Condo Electric Vehicle Charging .